The Early Years – 1880-1969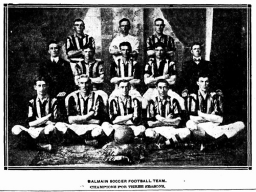 Photo of the Balmain soccer team in 1912 (The Sun, 30 Oct. 1912, p. 15)
Football or Soccer
The game of football, or 'soccer' as it has often become termed has a long history in the Balmain area. The formal playing of football was only established in London, England in October 1863 and evidence of its existence in Sydney began to appear in the press from around 1876 (Sydney Morning Herald, 4 April 1876, p.2). By July 1880, an organisation overseeing rules for English Association Football was established in Sydney (Sydney Morning Herald, 24 August 1880, p.6).
The first local football club, the 'Balmain Club', was formed in 1890. The name of the club varied over the years. It was called the Balmain District Football Club and on other occasions, the Balmain District Club or the Balmain District British Association Football Club.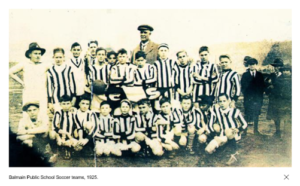 Balmain Public School football team, 1925 (Inner West Council Archives)
50 Players
In March 1903, the Balmain District British Association Football Club had over 50 players making up 3 teams. They played on many grounds in the area and settle into Birchgrove Oval from May 1902 (Sydney Sportsman, 21 May 1902, p.6).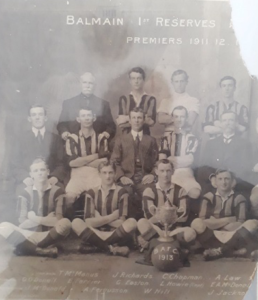 Photo of the (back row, left) Tom McManus (1841-1920), a committee member in the Balmain Football club, 1912.  (Collection of Jeanette Westrup)
The McManus Family
The game of football has always been well entrenched in the Balmain area and it would be of no surprise for current Club members to find they have forebears who were themselves closely linked with previous Balmain football clubs. One such connection comes through the McManus family.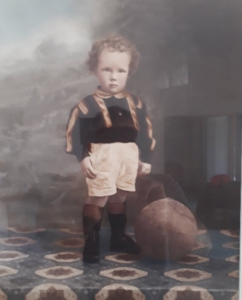 Photo of the late Tom McManus (b. 1904) jnr. (grandson of Tom McManus snr), a junior member of the Balmain soccer club in c.1907, in black and gold club colours.  (Collection of Jeanette Westrup)
Tom McManus
The football tradition was strong in the McManus family. Tom McManus snr.(1841-1920) was a long-time committee member and probably played with the old Balmain football club in the late 19th and early 20th century. In 1915 he was the vice president of that club (Evening News, 12 Feb. 1915, p.2). In later years, the inherited aptitude and natural talent benefited our Club. There are currently three McManus descendants who are Life Members of the club; Jeannette Westrup (nee McManus), Graeme Westrup (ex-President) and David Westrup.