The Foundation – 1970-1980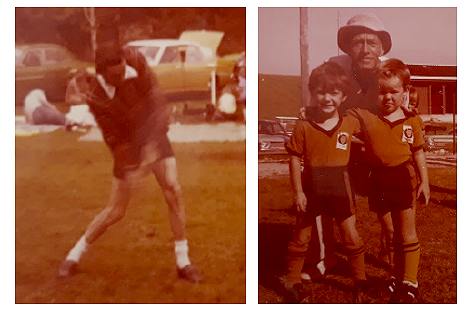 Left: Frank Hawkins, Right: Wal Gourlie  (Collection of Graeme Westrup)                                    
The Seventies and Foundation
The foundation of the Club took take time and evolved over at least two years until it was formally established in 1970.
Founding members Frank Hawkins, Wal Gourlie and George B. Stone began scouting for talent prior to late 1968. At the time, Sgt George Stone ran the Balmain Police Boys' Club which had a U14 football team in 1969.  One local family, the Westrup's, was approached by relatives of Sgt Stone in late 1968/early 1969 and work on the formation of a Club began.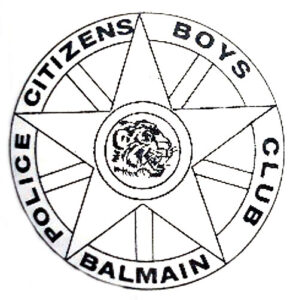 The first club logo, 1970
Balmain Police Boys' Club
By late 1969, Hawkins and Gourlie were in negotiations with Sgt Stone, who was Secretary-Supervisor of the Balmain Police Boys' Club. By early 1970 a formal proposal to set up a football ('soccer') section was officially put to the Management Committee of the Balmain Police Boys' Club and was approved immediately, and the 'Soccer' section of the Balmain Police Citizen's Boys' Club was formed.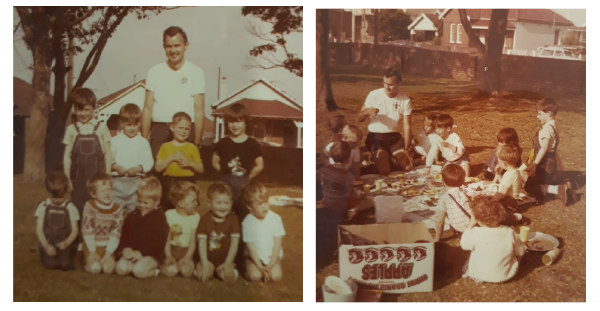 Coach Ted Westrup with a Nursery Team at Callan Park, 1972. (Collection of Graeme Westrup)
Callan Park
In 1970 the Club started to compete in local competitions, beginning modestly with three teams. The training was held in the grounds of the Callan Park Hospital and with the help of the Hospital, the club was able to attain the use of the 'Callan 2' fields as its first 'home ground' thanks to Mr Delaney, the manager of the hospital. In later years, games were moved to King George Park and by the mid to late 1970s, the club also used Callan Park 3 and 4, and occasionally, Timbrell Park. Picture of trophy, team, Balmain Boys Club?
Competitions
In our first year the Club participated in several major competitions, the Captain Cook Bi-centenary Cup, Liverpool Bi-centenary, Western Suburbs Pre-Season Knock-Out, Queens Birthday Gala Knock-Out, Blacktown Hospital Cup, John Woodfield Trophy, Mt. Pritchard Cup, the John Woodfield Trophy and the 1970 Competition Proper.
In 1971, Frank Hawkins and Wal Gourlie continued to act as club supervisors. D. Holt oversaw the Under 6s. B Atkinson, the Under 7A and K Oswald, the Under 8A.
By 1972/3, each age group had approximately 3 teams ranging from the Under 6s to the oldest groups being the Under 16s.
The Club has since played within different umbrella football associations and competitions over its 50-year history. From its inception with the NSW Protestant Churches Association to the Western Suburbs District Soccer Football Association, Canterbury Districts Soccer Association and the Gladesville and Hornsby District Soccer Association.
The Club stayed affiliated with the Balmain Police Boys' Club for 23 years until the Club became independent in 1993.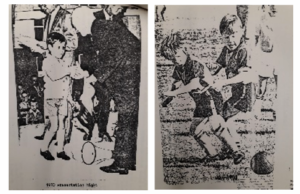 In 1970, the club had started off with 3 teams, 45 players and no nursery team. From the early to mid-1970s, each age group grew to between 2 to 3 teams (Nursery to Under 16s).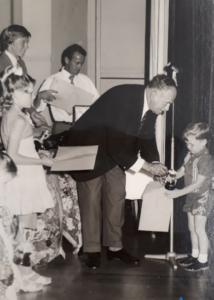 3-year old Graeme Westrup at Presentation Day, 1972. (Collection of Graeme Westrup)
Our First Presentation Night
In what began a Club tradition, at the end of our first season in 1970 each junior player received a trophy and every team that won their competition got club jackets.
The first presentation night was held on 7 November 1970 at the Balmain Police Boys' Club, at 372 Darling Street, Balmain. The following pictures, from the event, appeared in the local papers (probably the Balmain Observer) soon after.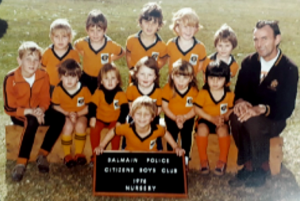 10-year old Graeme Westrup assisted his dad, Ted, coaching a Nursery Team, 1978  (Collection of Graeme Westrup)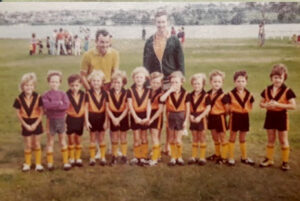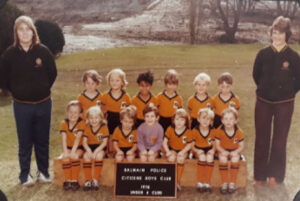 Teams from 1974 and 1978 (Collection of Graeme Westrup)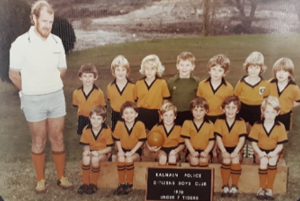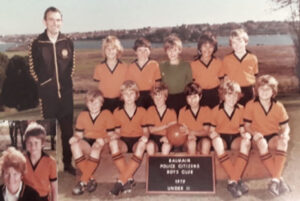 Undefeated Premiers winners, 1979 (Collection of Graeme Westrup)
Early Beginnings – A Community Club
Being a community-based, volunteer organisation, parents have always played a pivotal role in the club and were responsible for its early establishment. Parents and volunteers provided the human capital and resources to make the club a success;
"…. the crowd that we had …. they were just absolutely fabulous. They were good parents, they looked after their kids, they were supportive of them, they didn't bring them to the game and go home. They stayed, and they were supportive. And they did everything they did to help, you know."  (J Westrup, 2018)
It took time for some parents to get involved, but club regulars were always friendly and welcoming;
"They'd encourage the parents to get in and help. Because they'd come up to the canteen and say, 'Do you need any help?  Anything we can do?'. And I'd say, sure come on, you make cups of tea and you can do the coffees. If you did it that way, when we had something big." (J Westrup, 2018)
Simple tasks and roles were often needed to be filled at the last minute;
"Most parents were enthusiastic and stayed for the game. And of course, you had to have 2 linesmen for every match, quite often a parent would volunteer to run the lines. And sometimes for the younger groups, a parent would actually referee. Sometimes the referee wouldn't turn up or something …. sometimes a referee would turn up among the more knowledgeable parents." (A Kennedy, 2018)
While much of the coaching, catering, fundraising and administration of the club was done by adults, many kids graduated into coaching roles from a young age.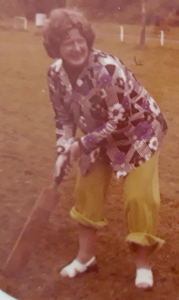 Joyce Hawkins, one of the founders of the Ladies' Auxiliary (Collection of Graeme Westrup)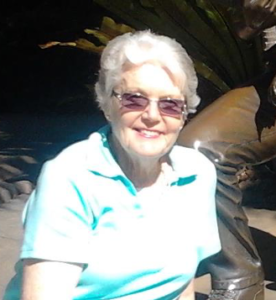 Jeanette Westrup worked with the Ladies' Auxiliary from 1972 till the 1990s. She was made a Life Member of the BDFC.
The Ladies' Auxiliary
The club did not receive financial assistance from the Balmain Police Boys' Club. However, the majority of the cash injection needed to run the club came from the Ladies Auxiliary, which kept the club financially sustainable for years with the 1974 Annual Report noting 'finance is just about a 100% from the Ladies'.
The Ladies' Auxiliary was originally set up by local women like Joyce Hawkins, Jean Stone and June Maguire. Joyce and Jean were the spouses of club founders Frank Hawkins and George Stone. This was essentially led by Joyce and June for many years. Jeanette Westrup took over when they retired in the late 70s or early 80s.
By the early 1970s, the club had between 7 and 12 teams or 96 to 162 players to feed. A lot of hard work was needed to cater and feed such a large contingent of players. At any one time, the Auxiliary had about half a dozen 'good workers', with a few more who helped out on the peripheries (J Westrup, 2018).
"When we started out, we had a little table on the ground …. we advanced to an old caravan and converted it into a canteen. That was beautiful because we got out of the weather. The canteen wasn't stabilised very well. And we tended to have 'motion sickness' by the end of the day as it rocked a bit …. we sold hot dogs and soups, some of us made cakes and we sold cakes. I actually had a connection at the school canteen, so I got all the supplies at cost rates. So that helped."   (J Westrup, 2018)
Years later the games were relocated to St George Park, where the Auxiliary managed to access a proper canteen building, which was a relief. This group essentially fundraised for the entire year while running their canteen and selling food and drinks. They also held a raffle every Saturday, a 'Chocolate Wheel' and ran the '200 club' (Balmain Observer, 30 June 1971, p.1). Participants in the '200 club' paid a small sum every week which qualified them to win a big prize in the final draw. For $200. It was held approximately twice annually and the prize was increased to $250 in 1974.
Once a year the various Police Citizens' Clubs from around NSW held a Police Citizens' Club week. All the football teams congregated in Balmain where they held a big football tournament between both metropolitan and regional teams. The visitors were billeted in Sydney and the full responsibility of feeding these hungry hordes came down to the Ladies' Auxiliary.
"We had the catering of it. It was 'fun'. We catered for hundreds and hundreds of boys. We did that by being at the crack of dawn cutting sandwiches and everything …. all from our ladies, we did the lot. Then we had 70-something (club) officials. And we catered a sit-down lunch …. and they set down to the lunch and home-made cakes, and they said it was the best meal they ever had. The looked forward to coming back each year so that they could get their home-made cakes."  (J Westrup, 2018)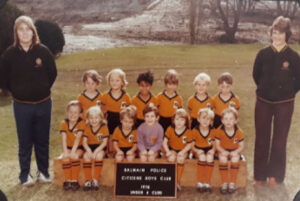 Women and girls in the Under 6 team, 1978 (Collection of Graeme Westrup)
Early Female Participation
As early as 1974, it was not uncommon to come across the occasional girl player in a team. Former representative female coach, Frank Warnink remembers;
"There weren't that many girls around, so they had to join with boys, so there were many mixed teams … there was no actual rule, but we tended to stop girls playing in boys' teams probably around about 14 or 15. If they were good enough and they wanted to hang around …. if they were good enough, they were happy to let them in there. It was very social and a lot of them got on quite well". (F Warnink, 2018)
Some of these girls went on to play representative football with other clubs.