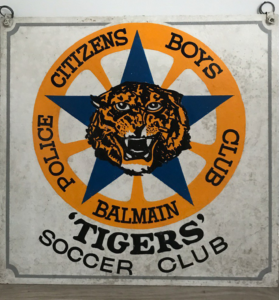 THE CLUB GROWS
By 1980 there were 24 teams (including one "nursery squad") and a record 327 players. Team sizes and player numbers would fluctuate, but stabilised by the end of the decade to 17 teams, 207 players and 12 nursery teams. 
By 1983, alongside various other competitions, the club was contesting within the Canterbury District Soccer Football Association (CDSFA) – where we remain to this day. While often called the "Mighty Tigers' Soccer Club" (with younger teams referred to as the "Cubs") the club was still officially the "soccer section" within the Balmain Police District organisation. 
Ben Masterman learned to play soccer in the south of Germany, and first joined the club as a young lad in 1979 when his family moved to Birchgrove. He remembers some great times with the sporting community – even if they teased him for his foreign-sounding accent.
My coach for a few years was Neil Whitney. His wife Margaret provided that sweet sweet cordial that jacked us up for the second half along with the oranges. Neil was so tall and commanding, but none of us was sure if he could play soccer (as we called it back then – remember?!) until the night at training in Cohen Park he took a corner and curled it straight into the net! I'll never forget how the ball curved like that. Bent it waaay before Beckham!
I remember him as huge and gruff but he had a heart of gold. This one night at training at the same ground, we all had the giggles so badly he couldn't get us to pay attention. He got frustrated but he knew there was no use getting angry, we were so far gone. "Listen to yez! You'd laugh at anything wouldn't yez? You'd laugh at this wouldn't yez?" he puts to fingers in the air, Winston Churchill style… and we practically pissed ourselves.
There was a kid in the team, Nick Kalimeras I think (or was it maybe Kalisperos? Sorry mate!). His dad was the kindly little bloke who drove a Mr Whippy van, and if we won he shouted us all soft serve, with the choc dip if we wanted. That was the greatest. A few years later he was hit by a car after stopping his van to render assistance at an accident. So sad. I saw Nick again at the funeral but it had been a few years and I didn't know what to say. Sorry again mate.
A BOYS CLUB NO MORE
In 1985, the Balmain Police Citizens Boys Club became the more gender inclusive Balmain Police CitizensYouth Club (BPCYC). This meant girls were finally given a chance to get out on the field and participate in the game.
Were you or a relative one of these first female players? We'd love to hear from you!
VOLUNTEERS
The club remained heavily dependent upon the stalwart efforts of its volunteers, particularly the dedication of a core group of members.
Ted Westrup, Ron Nelson, Paul Robinson and Carl Wise maintained on their own time the new Callan 4 field, which Frank Hawkins had worked hard to obtain. In 1980, Jeanette Westrup was the single woman volunteering at the canteen, showing up 'rain or shine every Saturday' from 8am to 6pm – a job that took up more time than any other position. This degree of individual sacrifice could not continue, the club's first female secretary Lyn Martin said firmly, with a roster system put in place the following season.  (Martin herself thanked her husband in her first club report 'for helping out with all the phone calls.') By 1983, it was June and Debra Maquire who were fronting the canteen every Saturday – with thanks going 'particularly to June for looking after the stock and using her home to store not only the canteen stock etc. but also the club equipment.'
The Ladies Committee – including Lyn and Prudence Wilson, Carol Phillips, Margaret Whitney, Pam Walkley and Margaret Marshall – can also be credited with arranging what was charmingly called a 'Fun Night', an annual fundraising event that was held throughout the eighties.
What a great time our "Fun Night" was. A good meal – plenty to eat and drink, dancing, dancing, dancing to the wee small hours of the morning and the music by Moby disc [a hired DJ jukebox] was pleasing and a good variety to suit all tastes.
– CA Wise, President 1980/1
MORE PLAYERS, MORE PROBLEMS
The rapid growth of the club, along with various other challenges, caused pressure to build in management. By 1989, the club had lost both Callan 3 and 4, and there were only five members in the Club Management Committee, who were doing an enormous amount of work. Positions were harder than ever to fill, referees were short from the abuse they routinely copped, and attendance was falling off precipitously. Meanwhile, even the most well patronised of activities within the BPCYC were falling away – including wrestling, touch football and fencing. What's more, after years of 'free football', Balmain DFC at last had no choice but to start charging a fee to players to ensure the club's sustainability. 
Foundation Member Wal Gourlie couldn't help but despair. He was also mourning the other cherished aspects of the club that had been lost of the years – the Club Fete, which folded in 1979, despite raising up to $7,000; the St John Cadets, which taught the kids first aid and attended to injuries on game day; and the 'pride and joy' of the club, its Brass Band and Drum Corp. The band would play at all kinds of occasions, including at hotels on Christmas Eve, and raised as much as seven hundred dollars. (You can find out more about the band on our Fun Facts page.)
Appended to the 1988 report was a rather pointed poem, entitled 'Classify Yourself', intended to prompt a little self-reflection from club members. 'Are you can active member / The kind that would be missed / Or are you just contended / Your name is on the list?' it challenged.
A TRIP TO TASSIE
The club had one of its first interstate trips in the early 1980s, with some of the young players making a trip to Canberra to meet and play with fellow clubs. In 1984, six players from two U10 teams travelled all the way to Tasmania to enjoy a few friendly games there. The social event was arranged by the NSW Churches Football Association, although it was paid for by the families.
The following year, the visit was repaid with a few Tassie players heading up to be billoted by the club.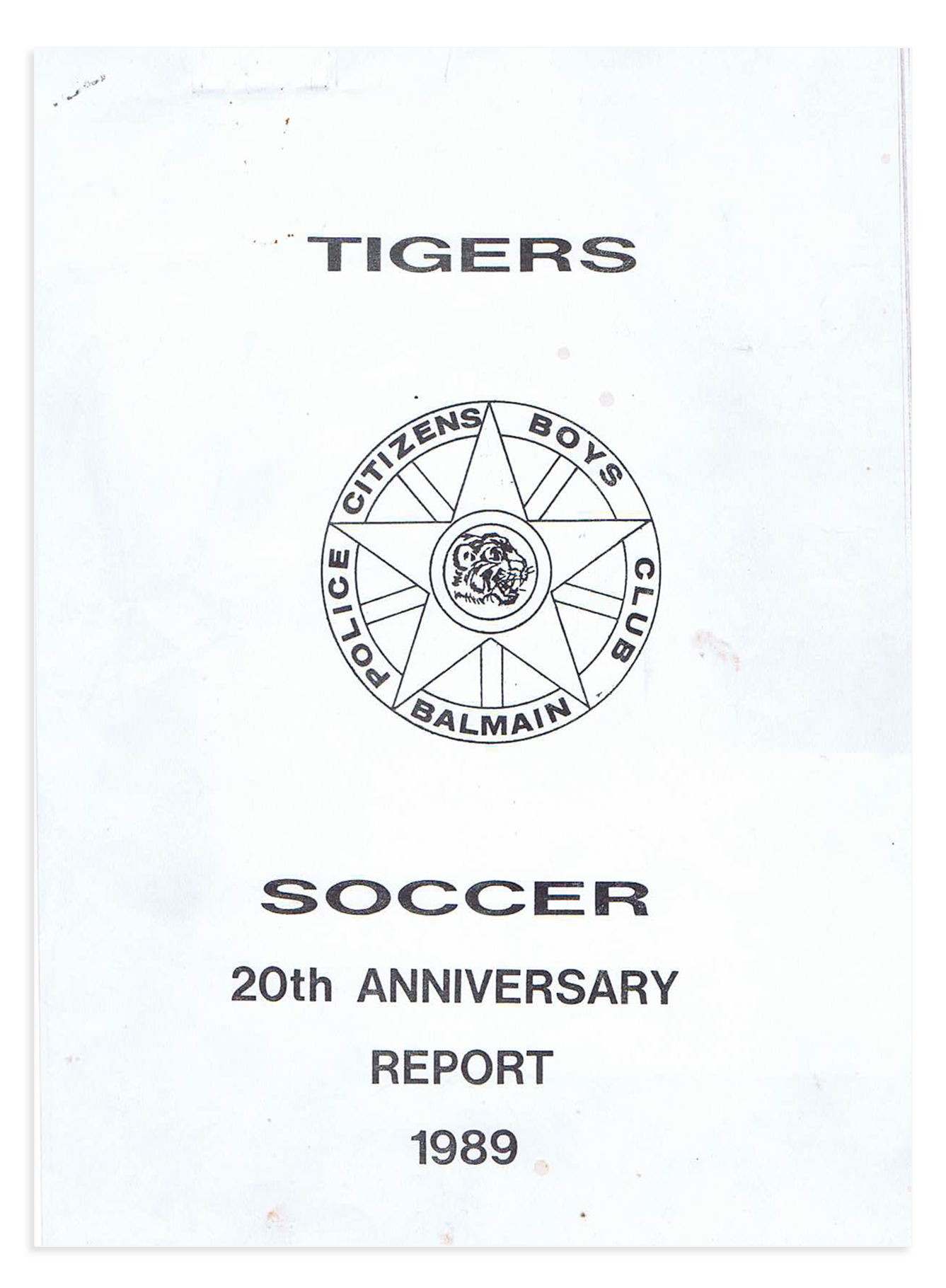 20 YEAR ANNIVERSARY
In 1989, the club celebrated its 20th anniversary, which coincided with the Balmain Police Citizens Youth Club turning 51. While conflicted about the direction the club was going, and full of rue over some of the changes he had seen, Foundation Member Wal Gourlie prefaced the mammoth-sized special edition club report for that year by commemorating the club's achievements. 'Twenty years is a long time for a Club to perform and keep a high standard in soccer and administration,' he wrote.
Living locally, there is many a time when I feel so proud in meeting the people, whether the older or younger, that have passed through the movement, and I can honestly say and see, where the time and effort that has been spent in achieving such a fine result with these good people.
A digitised version of the 20th anniversary report is available here.