WORLD CUP REPRESENTATION!
In 2006, the World Cup was held in Germany, and our club got representation in none other than our own U8 player, Daniel Heaslip. This lad won the chance to accompany the players on the field against Brazil in their second qualifier. Wrote Lindsay, Daniel's mum:
Soccer mad Daniel got the surprise of his life when the Today Show (Ch 9) knocked on our door at 7am one morning in May to tell him he was off to Germany with the Socceroos and was going to escort them out onto the pitch for their game against Brazil. 60,000 kids entered the competition and Dan was one of 11 lucky winners.
The next few weeks were a frenzy of passport applications and photo shoots. McDonalds made a TV commercial about Dan's experience which featured the rest of his Balmain soccer team, so suddenly they were all famous! (and very excited!) As World Cup football fever reached a frenzied pitch it felt like life in our household would never be calm again. Daniel went to Munich with his dad (who is also one of the coaches on his soccer team) and the trip was a completely amazing, 'never to be forgotten' experience. Lucky Dan got to walk out with the captain Mark Viduka and dad Tom got to hang out with his all-time soccer hero Sir Geoff Hirst. Daniel says next time he walks out to a crowd like that he is going to be part of the Socceroos team – what better dream is there?
Eventually the excitement died down and life returned to normal. I think one of the loveliest things about the whole experience was just how happy everyone was for Dan. His soccer team, school mates and many strangers in the street were all so thrilled for him and wished him a great trip. Thank you all!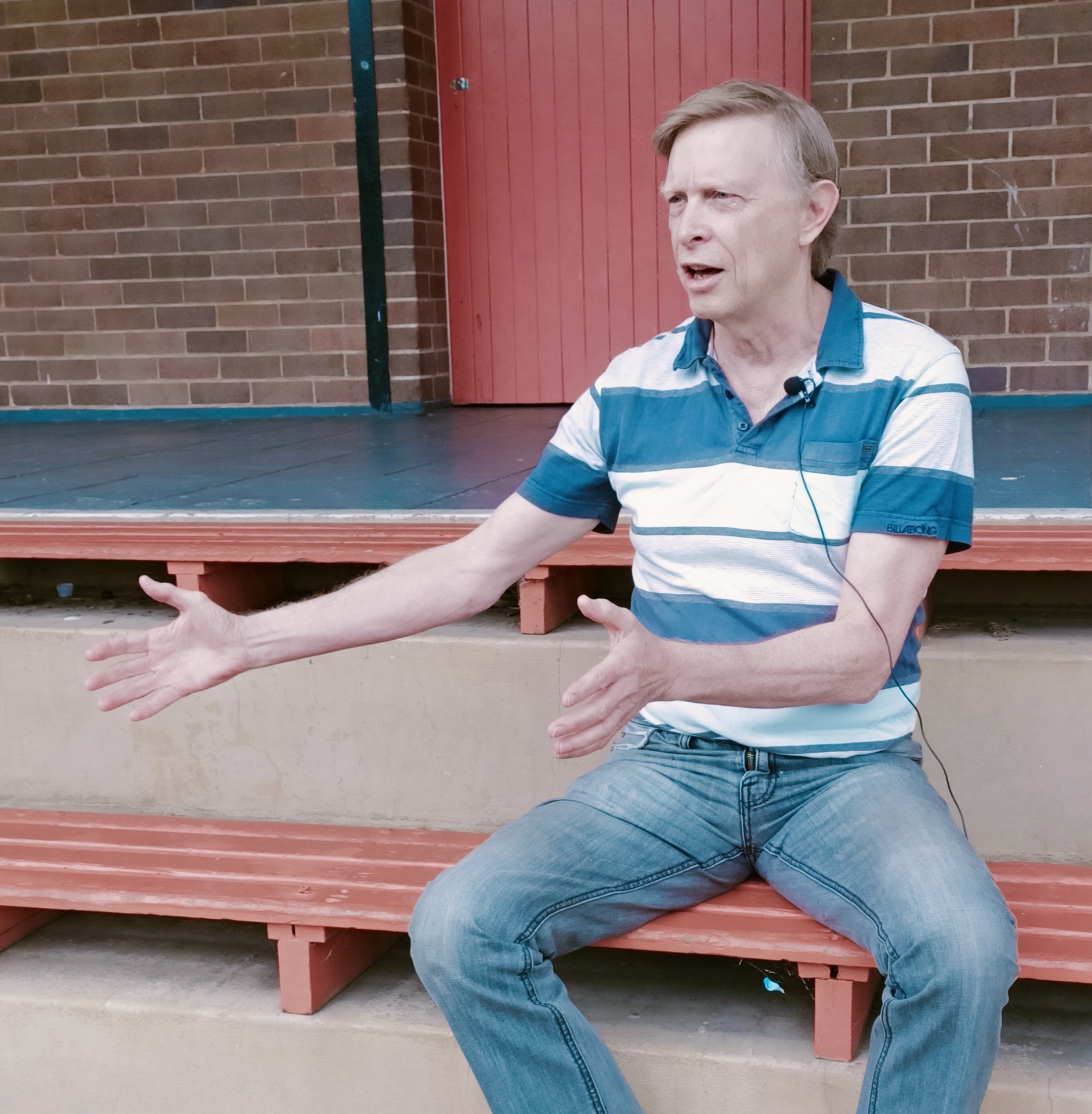 NOT JUST FOR KIDS
Having begun just as a club for the under-tens, the noughties saw Balmain & District Soccer Club (BDSC) make room for those with a few more decades on them who also wanted to play. 
2000 saw the first Over 35s team, which had arrived from the Gladesville-Hornsby district.
'Only two players are under 35, and we were mighty sick and tired of chasing 18-22 years olds on the field,' joked manager Jeremy Jacks. 'While we could still play rings around them, that last 20 minutes was just agony. There was only one solution: admit that we were getting old and move to the Over 35s.' Despite some trepidation at entering themselves in Division 1, they realised that their competitors were just as willing to avoid going to hospital as they were, and they finished third overall.
A few years later, a senior prize-giving ceremony was initiated under President John Thomson. This, along with a Trivia Night, gave the O35 players a good excuse to get together and consolidate the friendships they'd forged on the field.
There were, however, an increasing number of insurance claims that passed across the Secretary's desk in the early noughties. 'This is one trend we do not want to see continue,' said Secretary Chris Dunkerley. 'Soccer may be THE game, but after all it is only a game.'
The CDSFA also noticed a heightened level of aggression on the field among some seniors. This came to a boil in 2006, with a few older players appearing before the Disciplinary Committee, and some even suspended. 'These things happen from time to time of course and the blame is rarely all on one side,' said Dunkerley diplomatically. 'It is a sobering experience for those involved and hopefully one which we can avoid in future.'
To tamp down on bad behaviour from players, officials and spectators, the association was forced to formulate and enforce a zero tolerance policy. It seemed to have the desired effect, with fewer cases of violent play, abandoned games and pitch invasions subsequently reported.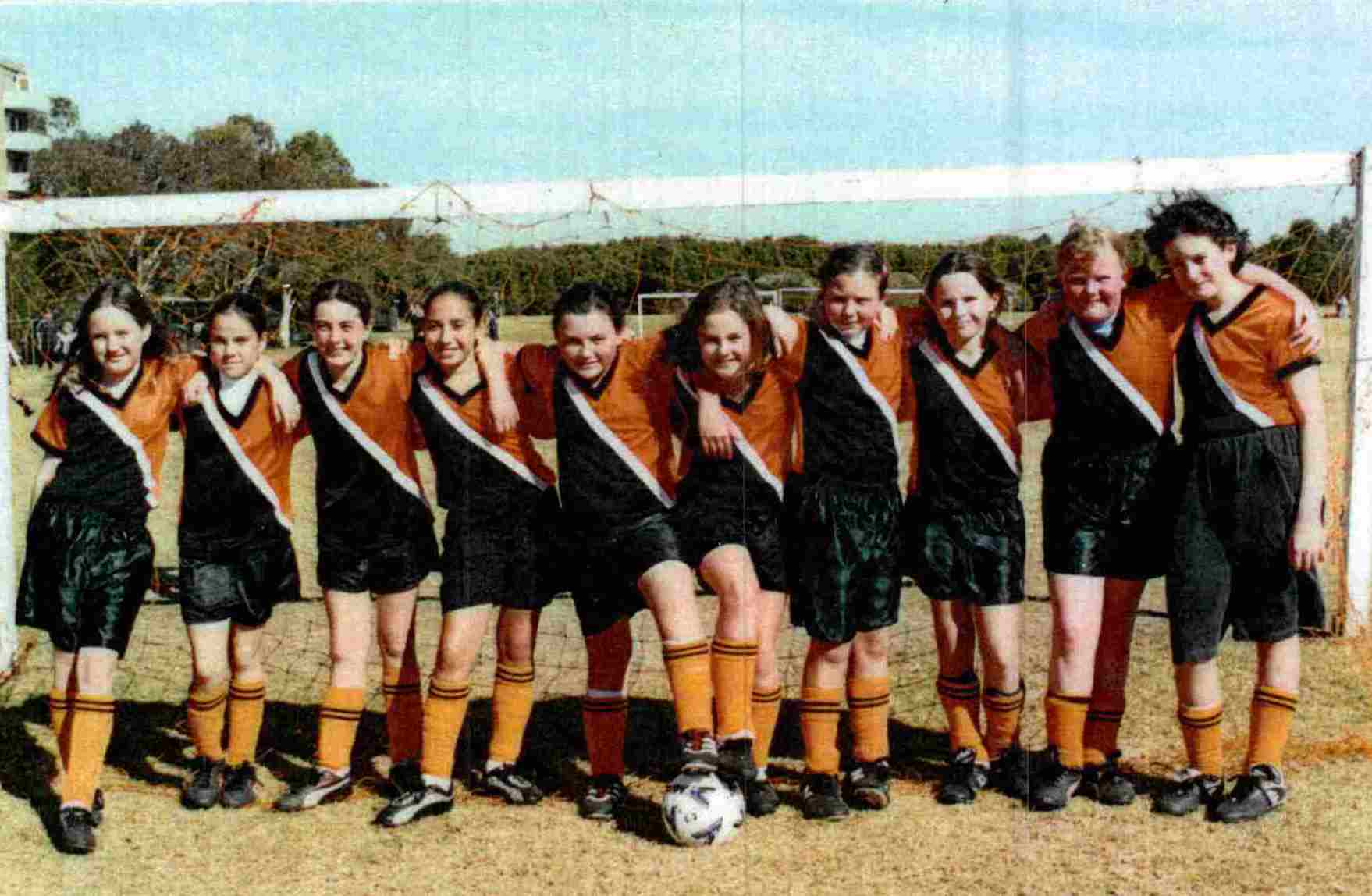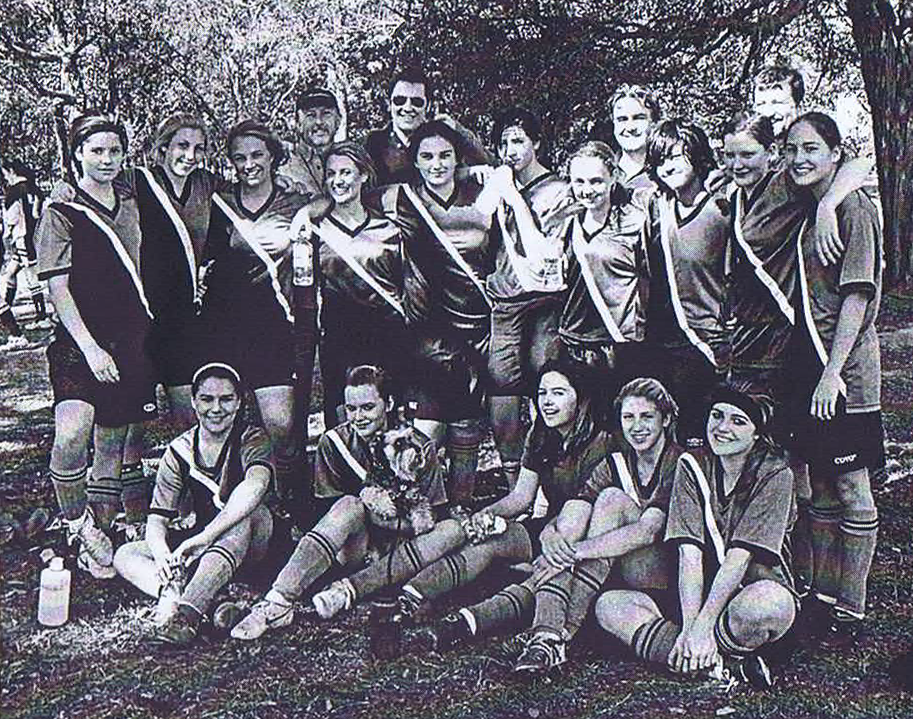 LEADING LADIES
In 2001, Balmain inaugurated its first women's soccer team. Put together by then CDSFA delegate Richard McCabe, managed by his daughter Tara McCabe and coached by John Magnifico, it had only five players who had played competition soccer before. While improving notably over the season, Tara joked that her team were sometimes a little too ladylike, even going out of their way to care for injured opposition.
By 2002, women and girls made up 20% of the Balmain Club, and two years later, it made up a whole third of the club's number. 2002 was a highly successful year for girls football in particular, with 4 of 8 junior girls' teams making their Championship Final. According to McCabe, one home-grown star female player even had a playing part in the cult film Bend It Like Beckham.
While the growth rates were tremendous, what made the club even more proud was the exceptionally high retention rate of female players. Eighty percent of players in 2003 returned the following season, and 31 of the 54 girls from the 2000 season were still playing four years later.
In the mid-noughties, there was a bit of a rigmarole with the transfer of girls football from North West Sydney Women Soccer (NWSWS) to Canterbury District Soccer Football Association (CDSFA). Technically, all Balmain teams should have been playing in Canterbury where possible. The only reason that girls hadn't been is because previously, CDSFA didn't run girls competitions. The switch was made with some bureaucratic pains, but they weren't long-lasting.
2006 saw a club first with the U12G/1A "Strikers" team making the final of the State Cup. And the following year, the club won its first ever Women's titles – including a First Grade Premiership, won against Enfield under captain Nicky Farman.
Zoe Hodgins moved to Sydney from the UK in 2002 and joined the women's football team in Balmain. Richard McCabe was club president back then, and his daughter, Tara, was also on the team.
I had played football in women's open age leagues in the UK since I was 14, playing in the National league for Aston Villa, so was looking forward to playing in Australia. I wasn't disappointed, the set-up was great and we had a fabulous team spirit. We won most of our games in the 2002 season, narrowly losing in the final. 
We used to paint orange and black stripes on our cheeks before a game, it was like our war paint. I had so much fun that year. We would end up in Dick's for a drink or two after our games.
I moved back to the UK but still in touch with some of the girls from the team. It's good to see the club still going strong!
FLAMES AND FUNNY BUSINESS AT THE CDSFA
In 2001, the CDSFA Office at the Tempe Leagues and Bowling Club, where CDSFA meetings were typically held, was destroyed by fire. Many important records were lost, as well as its computing and copyrighting equipment, and perhaps even the Best and Fairest Club Trophy, which was never received by winning club BDFC in 2002. Marrickville Council refused to renew the CDSFA's lease at Tempe, meaning that the association was left without office or equipment.
Meetings were relocated to the Roselands Club Buildings at Bennett Park until this building was also set on fire. The matter was in the hands of the police for two years. The outcome of the investigation is unknown (if you can shed any light, get in touch!). 
The Roselands fire was at least the third fire to affect the club, with another conflagration in 1991 at the Youth Club. The then "soccer section" lost 'just about everything' in the blaze.
The purge continued, if in other, less high-temperature ways at the CDSFA. By 2003, their executive committee had been forced to resign over 'certain financial and management irregularities.' While BDFC had a delegate at this time in Chris Dunkerley (also Secretary), there was no representation on any CDSFA committee, which was seen to be a troubling state of affairs. 
'Our club is large in numbers by anyone's standards and we need more people to get involved with the administrative side of the Club and the Association – I would say at least twice the number of good souls who currently 'make things happen",' said Chris Dunkerley.
THE DIGITAL AGE
This was also the decade when BDSC created its first ever website, set up by senior players Keiran Fox and Nat Hughes. Later, it was upgraded and maintained by webmaster Simon Specker, and given further care by Carlos Raggio.
The CDSFA had also entered the world of internet communication, and in 2004 ushered in its own new electronic registration system. The latter came in with not quite enough warning for the club's three registrars (for minis, juniors and seniors) who were overwhelmed by the new and unfamiliar processes. A tech-savvy saviour stepped up in the form of Tim Casey, who became our de facto Registrar, helping the club with the purchase of necessary computer hardware, installation and endless software debugging.
Despite the teething problems – which are, to a greater or lesser extent, endemic to all new technology – management can thank their lucky stars that they don't have to contend with the old system. 
'I can remember many hours spent on my lounge room floor posting photographs to cards when I became mini registrar in 2002,' reflected John Thomson in his final President's Report in 2008.
By 2010, returning player registration had moved almost entirely away from the old face-to-face scenario. 'This was warmly received by players and parents alike,' said Treasurer Matt Brown.
FIELDING CONCERNS
By the 2000s, the club's future at Callan Park – our home ground since foundation – became uncertain. With ground management transferred from NSW Health to Sydney Harbour Foreshore, there appeared to give preference to Sydney University to use the fields. The club committee rallied members and began a campaign to secure our future at Callan Park with Leichhardt Council, which would continue for many years.
Meanwhile, inexorably, a crisis of size was building. With the club's explosion in players, by the early 2000s, there was a critical lack of suitable and available playing fields in the municipality. By 2003, all teams were limited to just an hour training slot during the week (excepting the few teams that trained on Mondays and Fridays), and senior teams almost never got to play home matches on their home ground.
Despite ongoing efforts amongst management to improve access to fields, supply failed to match demand. In 2007, the club made the unprecedented decision to deliberately place limits on player numbers, preventing any new teams being formed that season. 
All was not bleak on the ground, however. New floodlights were installed at Easton Park, and later at Birchgrove Oval and Cohen Park – upgrades which made an 'enormous difference' to playing conditions. And the sponsorship of Sydney Kingsford Smith Airport over 2003-5 enabled the club to purchase substitute benches at Callan. 'A bonus for managers and coaches with tired old legs and players with sore younger ones!' said Secretary Chris Dunkerley.
CREATIVE FLAIR
There was a profusion of creative naming of teams during the noughties, particularly amongst the younger lot. We had the Rozelle Ragers and the Young Guns; the Balmain Blasters and the Exploding Boots. There were Fireballs and Pirates, Rozellas and Panthers, Bobcats and Beasts, Cheetahs, Lions and Brumbies.
There were also some creative nicknames for the players. Under 14 Div 2, there was Dean "Mean Boot" Meenhuis and Taon "Thundering" Thorne. In the U10 Div 3, there was Michael "Wild Wild" West and Aaron "And I ran" Morgan.
An Under 8 team even invented its own chant:
We're Balmain Bold and we're The Team
Eleven of us Orange and one of us Green!